Our office frequently fields the following questions from clients:
Can I file bankruptcy and keep my house?
Can I file Chapter 7 and keep my house?
Can I file Chapter 13 and keep my house?
Many times, the answer is yes. Most people that declare bankruptcy in the State of Texas can keep their houses throughout the process and after it's over, due to strong exemptions provided by the state.
Chapter 7 and Chapter 13 Bankruptcy are distinct from one another, and each is available to an individual depending upon the severity of his or her personal debt. Chapter 7 Bankruptcy is known as "liquidation bankruptcy," and involves most of the filer's property, sometimes even including the house, being sold to pay off debts. It is generally used by people who have limited income or no income and lack the ability to pay back anything on their debts for the foreseeable future.
Chapter 13 Bankruptcy, on the other hand, is known as "reorganization bankruptcy." Filers of Chapter 13 Bankruptcy work with the Court to develop and follow court-ordered repayment plans which last typically for three to five years. Chapter 13 filers usually keep their personal and real property while paying back a portion of their debts.
The two types of bankruptcies treat property exemptions differently, with Chapter 7 being more stringent because it involves asset liquidation rather than a structured repayment plan. Ordinarily, a Chapter 7 Bankruptcy will require a filer to pay any amount over and above a certain amount of exempted equity, or portion of ownership, in a house.
However, claiming bankruptcy and keeping your house is a very real possibility in Texas, due to the Texas Homestead Exemption law, which provides an unlimited exemption of up to 10 acres of a homestead in a city, town or village, and up to 100 acres in the country (See Tex. Prop. Code Ann. §§41.001; 41.002; 41.003; and the Texas Constitution, Article 16, §§50, 510). Under the act, few homes will be subject to liquidation in bankruptcy proceedings in Texas.
Assuming you kept your house throughout the bankruptcy process, after the bankruptcy you are free to keep your home as long as you continue to pay the mortgage. It is highly likely that after your unsecured debts are discharged, you will be in a superior financial position to afford your mortgage payments more easily. If so, you'll be able to keep your house for a long time.
Consult your bankruptcy attorney in Houston for the legal implications and long term planning in this regard.
Filing for Bankruptcy and Keeping Your House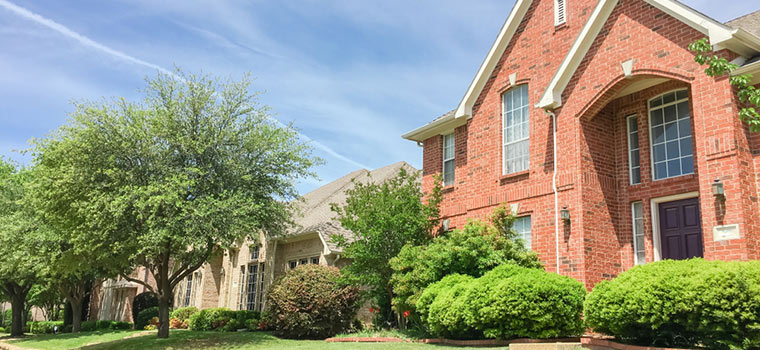 You are probably wondering – "If I file bankruptcy, what happens to my house?" After filing for bankruptcy, generally, all your property gets listed on a "schedule" form and goes into a bankruptcy estate managed by a trustee. This doesn't mean you lose your home in Texas, however, because of the Homestead Exemption.
How Can I File Chapter 7 and Keep My House?
You're asking, "Can I file Chapter 7 and keep my house?" and the answer is yes. A Chapter 7 Bankruptcy is often attractive to bankruptcy filers because it's quicker, easier, and gets you on the road to financial stability sooner than a Chapter 13 Bankruptcy with a three- to a five-year repayment plan.
You'll be able to keep your house as long as you're current on your house payments and can demonstrate that you will continue to be able to make payments in the future. The Texas Homestead Exemption should cover the rest.
How Can I File Chapter 13 and Keep My House?
You're asking, "Can you keep your home if you file Chapter 13?" and the answer is also yes. Filing bankruptcy and keeping your house is a fairly certain outcome in Texas under Chapter 13 just like under Chapter 7.
A Chapter 13 Bankruptcy is all about restructuring and places your home at far less risk than a Chapter 7, even though the Homestead Exemption should protect it in both cases. Under Chapter 13 Bankruptcy, you propose a repayment plan that allows you to pay your creditors over three to five years. Because your mortgage is a debt you are also responsible for, it is helpful to include it in your plan. You will want to show your creditors that you will be able to generate the income necessary to both pay them and pay the mortgage lender.
If you have a second or another junior lien on your homestead, you might be able to discharge it through "lien stripping." This process is only available in Chapter 13 Bankruptcies when your property is worth less than the balance of the primary loan. To strip the lien, you'll have to file a motion in the bankruptcy court and present evidence on the value of the property and the mortgage loan balances. If the court voids the junior lien, the debt you owe to that creditor will be treated as unsecured debt and may be discharged along with your other unsecured debts.
The Law Offices of Kretzer and Volberding P.C. Can Help Guide You During Bankruptcy
As you can see, there are navigable complexities involved in filing bankruptcy and keeping your family in your home. Whether you are considering filing for Chapter 7 or Chapter 13 bankruptcy, you will need a lawyer with the right knowledge and resources to help you.
Contact the Law Offices of Kretzer and Volberding P.C. today to discuss your case.